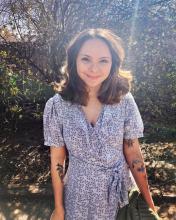 Role
Early Childhood Special Education Teacher
Hello! My name is Ms. Tea. I am the full day Early Childhood Special Education teacher at Linton Elementary.
B.S. in Human Development and Family Studies with a concentration in Prevention and Intervention.
M.A. in Early Childhood with a focus on Special Education.
I am a Colorado Native. I love reading and books! I really believe school can be fun and engaging, and try to inspire play based learning in my classroom. Please reach out if you have any questions. Thanks!