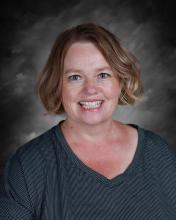 Teaching Experience:
Hello!
I am the school secretary and have worked at Linton since 2011. All five of my children went to Linton and we have been part of the Linton Fan Club since 2000! I LOVE being able to see and work with all students and their families; it is very rewarding.
Hobbies & Interests:
Here are my Top 5 Favorite Things:
1. Family is always everyone's favorite and yep, it's my favorite, too. I am very lucky to have a wonderful husband and 5 great kids. We have one grandson whose birthday is on July 4th!
2. Chocolate - I.cannot.resist.
3. Biking - I love Fort Collins and how easy it is to ride your bike to the doctor, the dentist and to get ice cream - yum!
4. Sewing - I like to make things for my house and to piece quilts together.
5. Pens - I love a good office supply section and may or may not be a little obsessive with letting others use my pens.

Favorite Starbucks Drink:
I'm not a coffee drinker, but have recently become a fan of herbal teas.